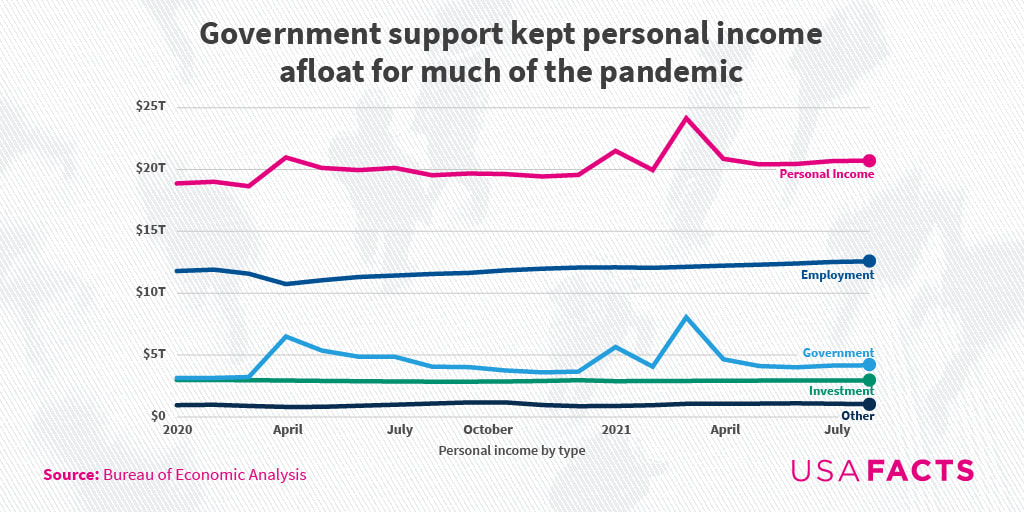 American income and saving have surpassed pre-pandemic levels
Join us and spread the word to your community
The all-encompassing nature of the COVID-19 pandemic and the government response to it affected the economy in unique ways compared to previous recessions.
Recent data shows some of these indicators have returned to pre-pandemic levels, while others reveal how the unique situation affected historical household spending and saving patterns.
While personal income fell briefly for a month in March 2020, overall income was elevated throughout the pandemic due to government support like stimulus checks and expanded unemployment insurance. Employment income took longer to return to pre-pandemic levels, only reaching February 2020 levels in November 2020.
However, recovery is more than just returning to pre-pandemic levels. For the five years preceding January 2020, personal income grew an average of 0.3% from month to month, and 4.3% from year to year. Income is far from returning to this steady pattern of growth due to the volatility of supplemental income from the government and the relatively slower growth in employment income as many Americans remain unemployed. Personal income increased with monthly averages of 0.41% in 2020 and 1.18% in 2021 so far. From August 2020 to August 2021, personal income increased at an average rate of 0.51%.
Some spending has returned to pre-pandemic levels but not all. In August 2021, spending on restaurants and hotels was still 0.79% below January 2020 levels. Spending on other goods and services was also 0.28% below pre-pandemic levels. Spending on travel abroad increased the most since January 2020, at 38%, followed by apparel, at 19.79%.
Before the pandemic, Americans saved an average of 6-7% of their overall income each month. The saving rate has averaged 15.3% since the pandemic began, with spikes in savings in the months with elevated government income due to stimulus checks or unemployment insurance. Since April 2021, the average saving rate of 10.18% has been steadily approaching the January 2020 rate of 7.8%.
Learn more about savings in the US here.