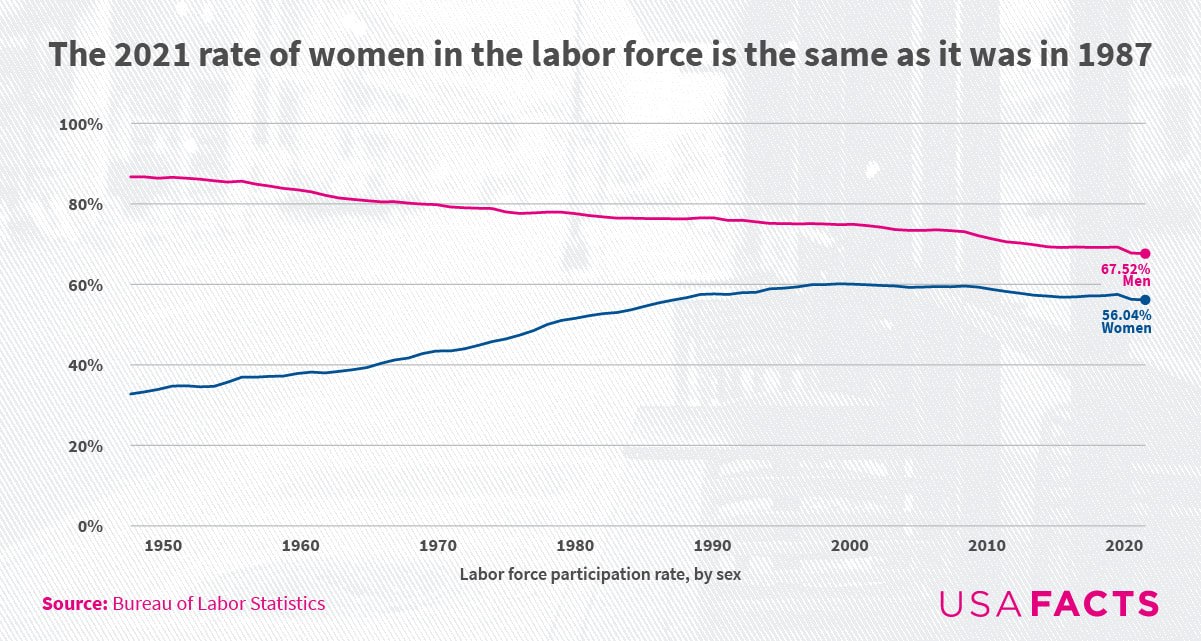 It's not just the pandemic: women have been leaving the labor force for more than 20 years
Join us and spread the word to your community
The pandemic caused shifts in the American economy, with 3.1 million people leaving the labor force since January 2020. But men and women didn't leave the labor force at equal rates.
Labor force participation is the number of Americans who are 16 years and older and currently working or looking for work. It is a sum of the unemployed and currently employed population.
About 1.9 million fewer women participated in the labor force in September compared to January 2020, the equivalent of 1.2% of the current labor force. In comparison, about 1.1 million men dropped out of the labor force during that time.
In April 2020, 54.6% of women 16 and older were working or looking for work, the lowest rate since 1985. That statistic has rebounded to 55.9% as of September 2021 but is still almost two percentage points short of the January 2020 figure.
The year-to-date average rate of women labor force participation is the same as it was in 1987 at 56%. Labor force participation, like unemployment rate, is not back to pre-pandemic levels but has recovered steadily.
The decline in the percent of women working or looking for work isn't unique to the pandemic. Women's labor force participation increased throughout the 20th century, peaking at 60% in 1999. This is partly due to the baby-boom generation, people born between 1946 and 1964, reaching traditional retirement age and leaving the job market.
Learn more about women in the US labor force here.