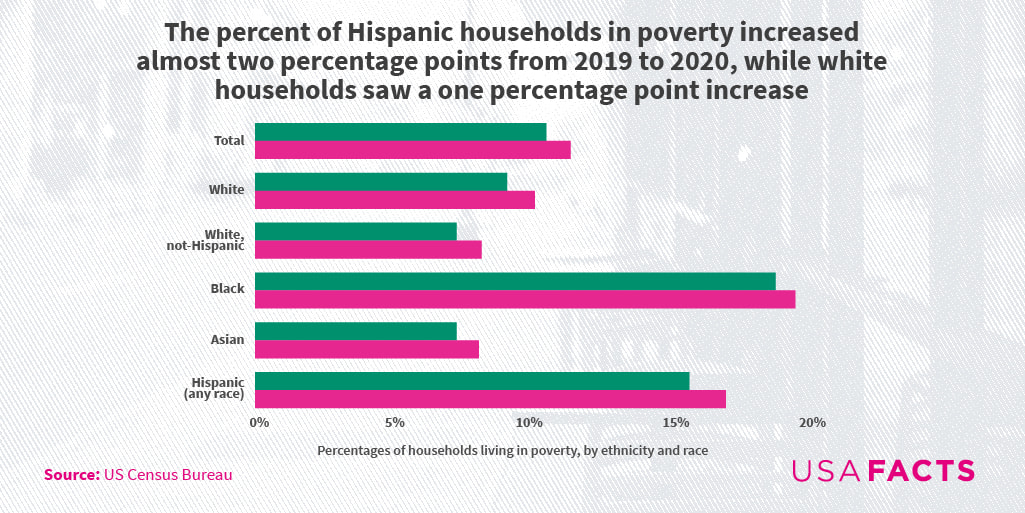 Poverty grew in 2020 as Americans lost income and health insurance
Join us and spread the word to your community
Americans felt the impact of the COVID-19 pandemic in their pocketbooks last year, according to data recently released by the US Census Bureau.
The poverty rate in the US increased in 2020 for the first time in six years, according to data recently released by the US Census Bureau. Median household income dropped and fewer Americans had health insurance in 2020.
The Census data comes from the latest Current Population Survey, which is done in coordination with the Bureau of Labor Statistics. The survey was conducted between February and April of 2021, but respondents were asked about their 2020 situation.
Median household income decreased 2.9%, dropping from $69,560 in 2019 to $67,521 in 2020. Regionally, median household incomes dropped by 3.2% in the Midwest and 2.3% in the South and West, according to the Census Bureau[1].
By the end of 2020, there were 3.3 million more people in poverty than the year before — the first increase in the poverty rate in six years. In total, 37.2 million people were living in poverty nationwide. The US poverty rate increased from 10.5% in 2019 to 11.4% in 2020. The Census Bureau notes that this is the first increase in poverty after five consecutive annual declines. Hispanic households had the largest poverty rate increase compared to other race and ethnicity groups last year, increasing by almost 2 percentage points to 17%.
The percent of insured Americans also decreased, falling from 92% in 2019 to 91.4% in 2020. About two thirds of Americans have private insurance compared to a public insurance plan like Medicare, according to the Census data.
Find out more about poverty in the US here.