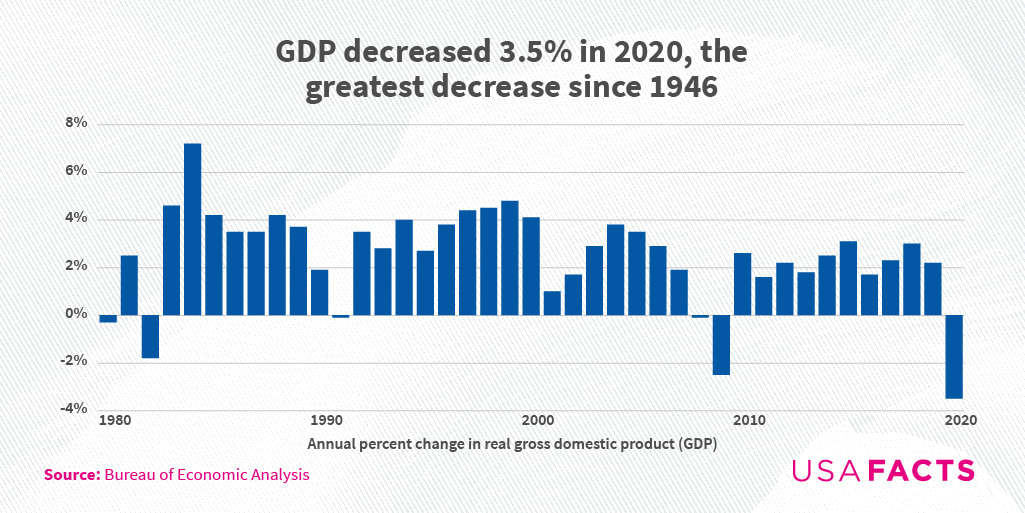 How is the US economy doing compared to pre-pandemic levels?
Join us and spread the word to your community
GDP decreased 3.5% in 2020, the lowest growth rate since 1946.
GDP has grown 2.1% on average over the past 20 years, but it fell from $21.7 trillion in 2019 to $20.9 trillion in 2020.​
The average annual unemployment rate in 2020 was 8.1%, lower than the annual averages during the Great Recession in 2009 (9.3%), 2010 (9.6%), and 2011 (8.9%)
However, the labor force participation rate, or the percentage of the working-age population that is either employed or seeking work, fell to 61.7%, the lowest since 1976.
Nearly 25 million Americans were on unemployment insurance in May, the highest point during the pandemic.
Prior to the pandemic, 1-2 million people are on unemployment at any given time. Washington, DC, California, Hawaii, and Nevada had the highest rates of unemployment claims per capita; Idaho, South Dakota, Utah, and Wyoming had the lowest.
The economy lost 9.4 million jobs in 2020, a 6.2% decrease from 2019. That's larger than the 3.7% drop from 2008 to 2009 during the Great Recession.
The leisure and hospitality sector lost the most jobs: 3.7 million (down 22%). The government sector lost 1.3 million (down 6%) and the education and health services sector lost 1.2 million (down 5%).
Learn more about the US economy here.