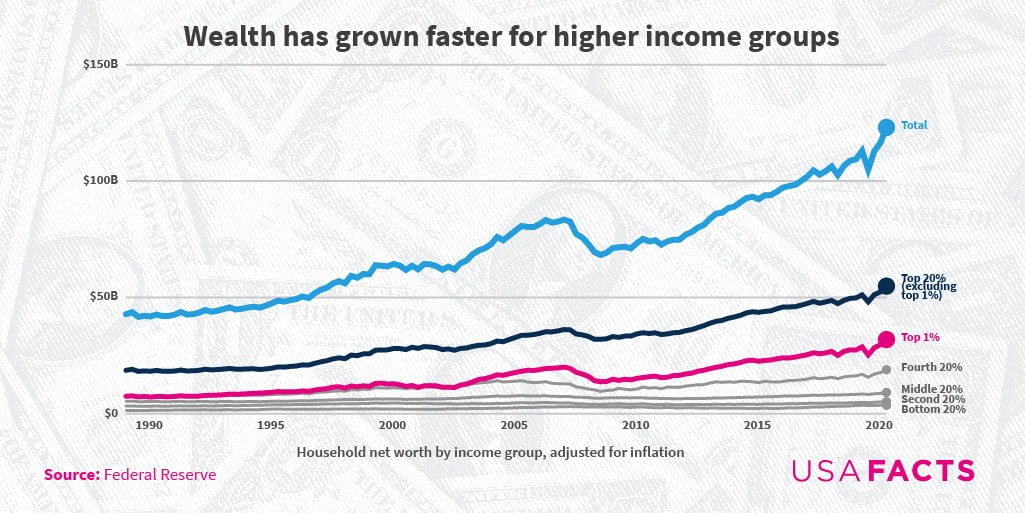 Who owns wealth in the United States?
Join us and spread the word to your community
Who owns wealth in the United States?
According to data from the Federal Reserve, in 1990, white households owned 90.7% of household wealth in the United States, whereas Black households owned 3.8% and Hispanic households owned 2.1%. These numbers have changed little over the past 30 years, with white households now owning 85.5% of wealth in 2019, and Black households owning 4.2% and Hispanic households owning 3.1%. Most of the white wealth decline is due to other racial groups attaining a share wealth.
Another way to look at this is the net worth, or assets (such as stocks and real estate) minus liabilities (such as loans and mortgages left to pay), by race. The average net worth per capita among white Americans is roughly $437,000 per person, whereas this value is $105,000 among Black people and $53,000 among Hispanic people.
Wealth is generally held by older Americans, who are more likely to be white. Age is also critical to understand who owns wealth in the United States. Older people, having had more time to accumulate income, are more likely to have higher wealth than younger people, even if they may have lower levels of wage income. Americans 55 and older collectively own 72% of wealth in the United States, with Americans 70 and older owning 28% alone.
Learn more about wealth in the US here.