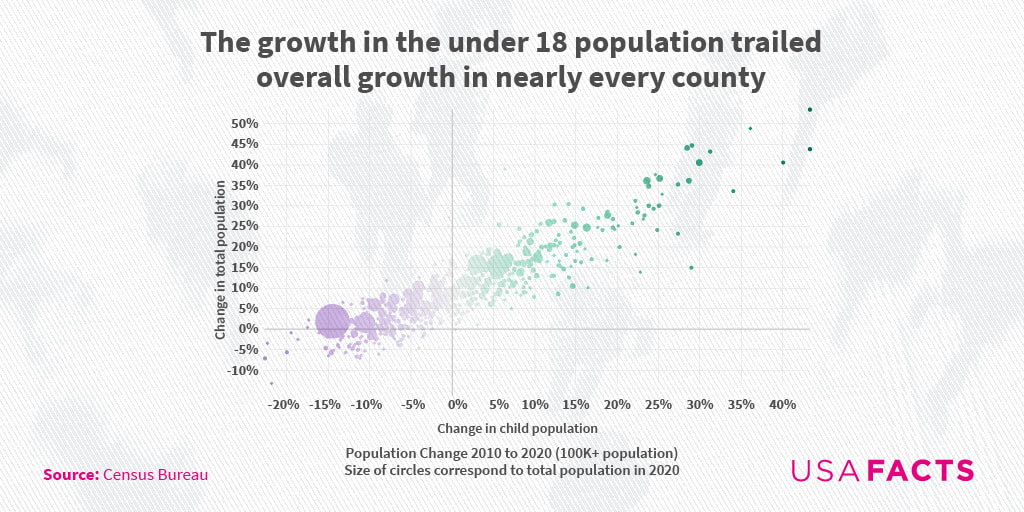 The US child population shrank by 1 million between 2010 and 2020
Join us and spread the word to your community
Between the last two censuses, the adult population in the US grew 10%, from 234.6 million to 258.3 million. During that same period, the under 18 population dropped 1% from 74.2 million to 73.1 million. The decrease occurred as US birth rates hit a record low. At the same time, diversity among the youngest Americans increased in the last decade.
While there are fewer children overall, additional census data shows how America's children have changed both demographically and geographically since 2010.
While the number of children fell 1% during the decade, the change was not uniform across demographic groups.
The number of non-Hispanic white children dropped 13%, from 39.7 million in 2010 to 34.6 million in 2020. The demographic remains the largest in the age group, though the 2020 census marked the first time non-Hispanic white children were less than 50% of the 18 and under population.
Meanwhile, the under-18 population grew in three demographics: Hispanic, non-Hispanic Asian, and non-Hispanic multiracial. The number of multiracial, non-Hispanic children increased 76% to 4.9 million in 2020. The under-18 Asian population grew 23% to 3.9 million, while the number of Hispanic children grew 9% to 18.8 million.
The under 18 population dropped in 27 states. While California has the most children of any state — 8.8 million in 2020 — it also had the largest decline in the under 18 population, dropping 583,000 since the 2010 census. California, Illinois, New York, Michigan, and Pennsylvania each counted over 100,000 fewer children in 2020 compared with 2010.
Learn more about the US population here.