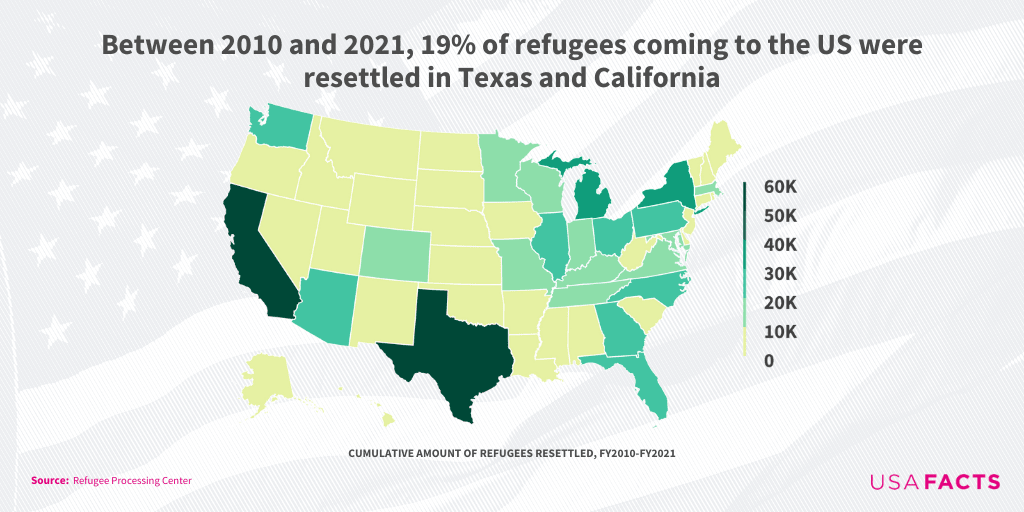 Where do refugees resettle in the US?
Join us and spread the word to your community
Changes in refugee policy between presidential administrations caused big shifts in the number of refugees admitted to the US in the last decade. In fiscal year 2016, the US admitted about 85,000 refugees. By 2021, that number dropped to 6,300. President Joe Biden announced his first adjustment to the refugee admissions cap in May, and with plans to increase the 2022 fiscal year limit to 125,000.
Where refugees settle in the US depends on where they come from and the locally available resources to help them succeed.


Where do refugees resettle?
Texas and California top the list of states receiving refugees between fiscal years 2010 and 2021, each accepting more than 50,000 refugees total. New York, Michigan, and Arizona round out the top five on refugees resettled. Twenty four states and Washington, DC resettled fewer than 1% of refugees from 2010 to 2021 with a total of 53,067.
Some states had a large number of refugee resettlements for a short period of time, before the numbers drop off. Ohio was in the top five for resettlements in 2016, 2017, and 2018 but eighth in total refugees from 2010 to 2021. Kentucky ranked in the top five for 2019 and 2021, but was 14th for total refugees in the last twelve years.
Learn more about refugees in the US here.